Bali Bird Park is exciting Bali Activities that you can visit on your vacation in paradise island of Bali. Two hectares of fine tropical gardens offer an interesting leisurely walk amidst the rich compilation of nearly a thousand exotic birds from the Indonesian archipelago and around the world. The Bali Bird Park is located in the village of Batubulan, Gianyar Regency and is a fun and attractive playground for bird lovers and a convenient stopover for those on day tours and en route to the central regions such as Ubud as well as the gold and silversmith's villages of Celuk and Mas.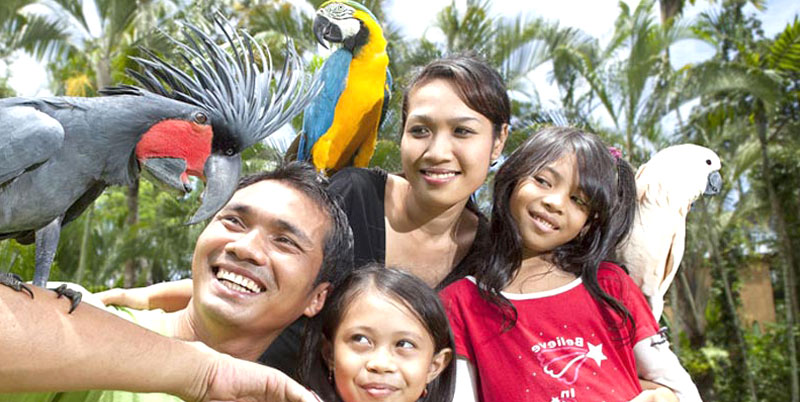 Hundreds of different bird species can be found throughout Bali Bird Park grounds in the magnificent aviaries and individual enclosures. Several of the bird varieties jointly dwell and roam free on the open tree perches and in the interweaving ponds throughout the park grounds. Bali Bird Park appeals to families who have the opportunity to get close, touch, feed and view open displays of several tame species, as well as admire rare and exotic collections in their enclosures. Each individual enclosure and aviary is complemented with an information panel that lists the common and scientific names of the specimen, their origin and species as well descriptions that help visitors to gain a deeper understanding of the live and active specimens in view. The Free Flight Bird Show lets visitors marvel at the range of antics and abilities of birds of prey and other winged creatures in the collection.
Magnificent eagles, owls, and macaws soar through the skies, dive down at dummy prey, and snatch food from their handlers to the amazement of the audience. An interactive feeding time feature enables visitors to actively participate in the daily feeding schedules at the park. The keepers recreate the birds natural feeding environment - greater birds of paradise feed around you and amazing flycatchers perform aerobatics as you feed them. A 4D Avian Theatre experience is a new and exciting feature for families at Bali Bird Park, showing the animation feature Rilly's Sky Adventure. The film tells of a group of migrating ducks and the heart-warming but perilous quest of young Rilly the duck as he embarks with his family on his first migration south for the winter.
Bali Bird Park Price and Inclusions :
BALI BIRD PARK
Price :
• Adult : USD 26
• Children : USD 13
• Price is not include return hotel transfer
Operating Hours : The park and restaurant is open from 09.00 AM until 17.30 PM daily

Bali Bird Park Facilities
• Refreshment : Refreshments are available in the Bali Starling Restaurant (150 seats capacity ) and Rain Forest Café ( 30 seats capacity )
• Rest Room : There are four rest rooms strategically located throughout the park
• First Aid : First aid facilities are available at the Park. In case of emergency ask the Management on duty or any member of our staff
• Gifts and Souvenirs : Unique bird themed merchandise is available from the park gift shop adjacent to the main restaurant.
• Disability Access : The park has been designed with barrier-free pathways for convenient wheelchair and baby-stroller access. However, there are staff on hand if assistance is required.
• Parking Area : Large parking areas also for tours busses
How To Book :
THE BOOKING PROCESS :
• Complete The Booking Form to send your request
• Discussion, we answer all your questions regarding your inquiry
• Confirmation, we send the booking confirmation to you by email when all clear
• No booking fee, no deposit require from the activity that you requested
• Payments, for the activity you may pay upon arrival at Bali Bird Park location by cash or credit card
PRIVACY POLICY :
• Your reservation is absolutely secure, all personal data is encrypted and will be processed in a secure way. Bali ATV Ride takes the privacy of your personal data very seriously. Your personal information will only be used to process your booking.
Booking Form
Please complete the form below for general inquiries of your tour or activity