Dinner With The Great Elephant is one of the great Bali Activities to explore Bali Zoo as the day cools, the sun sets, and twilight takes over, prepare yourself for a completely unique island adventure where you are invited to enjoy Bali Zoo's latest animal and performance attraction – Dinner With The Great Elephants. Beginning in mid-December 2017 as the first activity of its kind, Dinner With the Great Elephants will allow you to observe our gentle giants bathe and feed before siting down to a sumptuous buffet dinner at Gayo Restaurant situated next to our Sumatran elephants followed by two inspiring cultural dance performances.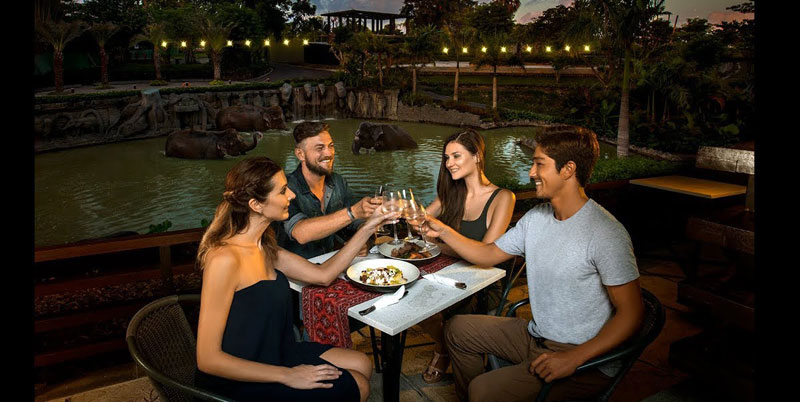 As you arrive at Bali Zoo for check in, you'll first pass through our brand new spacious Deer Park exhibit featuring our collection of Bawean, Sitatunga, Kijang, Timor and Javan Rusa deer. From the Zoo you will take a short double decker bus ride to our 100-year old traditional Sumatran buffalo house (kandangkerbau) drop off point. After disembarking at our grand 4-hectare Kampung Sumatra wildlife exhibit area, you will be invited to participate in our Elephant Encounter session that includes taking photos and hand feeding dozen Sumatran elephants that are currently classified as critically endangered by the IUCN (International Union for Conservation of Nature). These gentle giants are from the Elephant Conservation Center in Palembang, Sumatra (the northern-most island of Indonesia) where they were rescued from habitat loss and human persecution.
Before heading to dinner at Gayo Restaurant you'll continue your tour with a visit to the Sumatran tiger, tapir and sun bear exhibits as well as a stop at our nocturnal animal encounter session located at the nearby waterfall area. Dinner is served from 6:30 – 8:30pm but guests are able to join at any time during these hours. After choosing from a large variety of soup, salad and grilled items from the lavish buffet you'll be seated at tablesjust a few meters away from a small herd of six elephants adorned in colorful fabrics inspired by the decorated royal pachyderms of India, all accompanied by their mahouts in traditional Sumatran costume, andall perfectly set up for photo taking opportunities.
At 7:30pm our troupe of elephants will lead in the performers for a Saman dance (the Dance of a Thousand Hands) on the Green Stagebefore temporarily exiting the area at 8:20pm. Saman is afast paced traditional dance from the Gayo ethnic group of Sumatra that is usually performed to commemorate important occasions. Our elephants return at 8:30pm with a parade leading in the performers for the next attraction – a 20-minute fire dance inspired by the legendary great battle between the Hanoman, the white monkey god, and Ravana, the great King of Lanka, as told in the Hindu epic poem, the Ramayana. The programme for the evening ends at 9pm with a photo session with our troupe of elaborately attired dancers. A perfect conclusion and souvenir moment for an elephant dinner date guests will surely remember.
Dinner With The Great Elephant Price and Inclusions :
DINNER WITH THE GREAT ELEPHANT
Price :
• Adult : USD 50
• Children : USD 35
• Price are quoted per person for minimum booking is 2 person
Price Include :
• Air-Conditioned Return Hotel Transfer
• The Dinner With The Great Elephant Admission
• Animal Encounters
• Buffet Dinner
• Saman Dance (The Dance of Thousand Hands)
• Balinese Contemporer Fire Dance
• Insurance Coverage
• 21% Government Tax and Service Charge

Pick Up Time : Nusa Dua, Kuta, Sanur, Legian, Jimbaran and Ubud - 17.00 PM
How To Book :
THE BOOKING PROCESS :
• Complete The Booking Form to send your request
• Discussion, we answer all your questions regarding your inquiry
• Confirmation, we send the booking confirmation to you by email when all clear
• No booking fee, no deposit require from the activity that you requested
• Payments, for the activity you may pay upon arrival at Bali Zoo location by cash or credit card
PRIVACY POLICY :
• Your reservation is absolutely secure, all personal data is encrypted and will be processed in a secure way. Bali ATV Ride takes the privacy of your personal data very seriously. Your personal information will only be used to process your booking.
Booking Form
Please complete the form below for general inquiries of your tour or activity